Finding Adventure and Healing with First Descents MS Programs
Finding Adventure and Healing with First Descents MS Programs
Podcast: Play in new window | Download (Duration: 25:06 — 22.9MB) | Embed
Subscribe: Apple Podcasts | Google Podcasts | Spotify | iHeartRadio | Podchaser | Email | RSS | More
Finding Adventure and Healing with First Descents MS Programs – Episode 70 – Transcript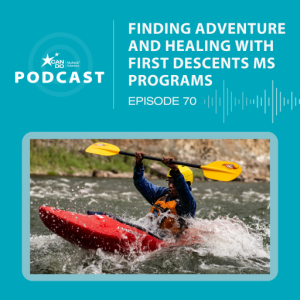 Have you ever noticed how it feels to breathe in the fresh air when you step outside? Or how your soul is ignited by an adrenaline rush? The great outdoors offer serene escapes and exciting adventures that can bring healing to the mind, body, and spirit. In episode #70 , learn about First Descents, an amazing nonprofit and partner of Can Do MS that delivers outdoor adventure programs to young adults with MS and other illnesses. Our guests are First Descents Vice President of Programs Mackenzie McGrath and program participant Tiffany-Ashton Gatsby. Hear their inspiring stories and learn how experiences like white-water kayaking can bring about the peer support, empowerment, and self-discovery that truly leads to healing.
Learn more about First Descents:
MS Programs: Check out their 2022 MS Programs, and stay tuned for even more MS Programs in 2023!
Programs Application: Submit a Programs Application today to receive updates on upcoming programs and sign up for an adventure when the time is right!
Contact First Descents: Email programs@firstdescents.org to learn more!