The Ups and Downs of Medication Adherence
The Ups and Downs of Medication Adherence
Podcast: Play in new window | Download (Duration: 18:17 — 16.7MB) | Embed
Subscribe: Apple Podcasts | Google Podcasts | Spotify | iHeartRadio | Podchaser | Email | RSS | More
The Ups and Downs of Medication Adherence – Episode 134 – Transcript –
In this episode of the Can Do MS podcast, we host CenterWell Specialty Pharmacy™ pharmacist Megan Winebrenner to discuss why it's important for people with MS to stick with their medications. Learn about the barriers that can prevent people from taking their medication as prescribed and what strategies and resources are available to help.
Learn more about CenterWell and the role of the specialty pharmacy in MS care by viewing these resources: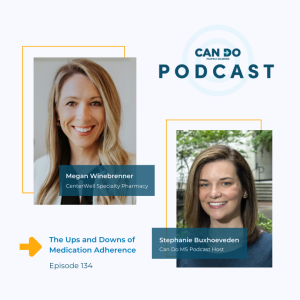 Disclaimer:  This program provides general educational information.  Can Do MS does not endorse, promote, or recommend CenterWell Specialty Pharmacy or any product or service associated with the content of this program. All product names, logos, brands and trademarks are property of their respective owners, and any use does not imply endorsement.